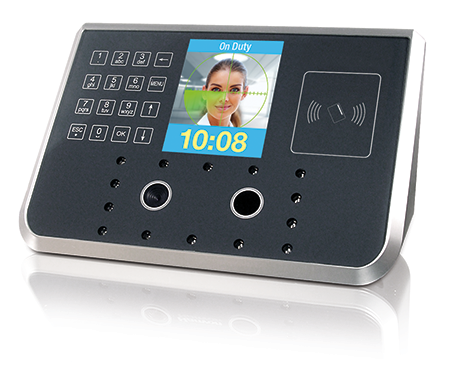 Time System International's TSI-810 Facial Recognition Terminal can record employee time, monitor productivity and control access in a multitude of industries including restaurants, hospitals, health care facilities, banks, manufacturing, retail, hospitality, and many others.
The TSI-810 functions as a simple to use data collection point for employee information. It can be linked to a variety of existing computer networks in your organization to complement the management information systems you already have in place. By automating your data collection process, you can eliminate the manpower and mistakes associated with conventional time cards thereby reducing both payroll costs and errors.
The TSI-810 is a time and attendance and access control system data terminal that uses face recognition technology to instantly identify users. The TSI-810 provides a touch-free, hygienic alternative to fingerprint and hand readers, while still eliminating "buddy punching" and the need for cards or badges. Users simply look at the device and within seconds they are identified and clocked in for work.
The TSI-810 System uses two infrared cameras that perform three dimensional facial analysis and identification. The dual camera system not only provides the fastest and most reliable verification, but it also ensures that it can't be fooled by 2D images or photographs. This precision 3D verification system is even accurate enough to differentiate between identical twins.
Communication between the TSI-810 and your computer is accomplished by one of Time System International's integrated time and attendance systems. The TSI-810 automatically transfers data to your computer. In turn, the computer is used to program the TSI-810.
The TSI-810's high impact plastic construction provides a tough, yet lightweight and attractive look. The TSI- 810's internal battery provides data backup if power is lost.
What kind of data would you like to collect? Accurate tracking and reporting of employee time is essential to determining productivity. The TSI-810 provides an easy and cost effective means of gathering this type of data. Put the power of automated data collection to use in your business!